Great Bible verses with Sunrise Videos
Great Bible verses with Sunrise Videos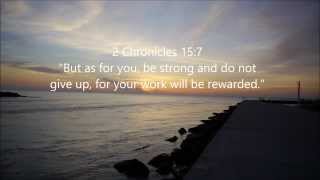 Please click on this link to purchase this video: (please leave a great review if you like the video)

Jeremiah 29:11
"For I know the plans I have for you," declares the LORD, "plans to prosper you and not to harm you, plans to give you hope and a future."
Psalm 34:8
" Taste and see that the LORD is good;
blessed is the one who takes refuge in him."
Proverbs 18:10
The name of the LORD is a fortified tower;
the righteous run to it and are safe.
Romans 8:28
And we know that in all things God works for the good of those who love him, who[a] have been called according to his purpose.
Romans 8:31
What, then, shall we say in response to these things? If God is for us, who can be against us?
Jeremiah 29:11
For I know the plans I have for you," declares the Lord, "plans to prosper you and not to harm you, plans to give you hope and a future.
Joshua 1:9
Have I not commanded you? Be strong and courageous. Do not be afraid; do not be discouraged, for the Lord your God will be with you wherever you go."
Psalm 119:105
Your word is a lamp for my feet,
a light on my path.
2 Chronicles 15:7
But as for you, be strong and do not give up, for your work will be rewarded."
Psalm 27:14
Wait for the Lord;
be strong and take heart
and wait for the Lord.
Proverbs 19:11
A person's wisdom yields patience;
it is to one's glory to overlook an offense.
James 1:5
If any of you lacks wisdom, you should ask God, who gives generously to all without finding fault, and it will be given to you.
Psalm 29:11
The Lord gives strength to his people;
the Lord blesses his people with peace.
Proverbs 1:7
The fear of the Lord is the beginning of knowledge,
but fools despise wisdom and instruction.
Matthew 11:28
Come to me, all you who are weary and burdened, and I will give you rest.
Romans 12:15
Rejoice with those who rejoice; mourn with those who mourn.
Revelation 21:4
'He will wipe every tear from their eyes. There will be no more death'[a] or mourning or crying or pain, for the old order of things has passed away."
Psalm 145:7
They celebrate your abundant goodness
and joyfully sing of your righteousness.
John 10:27
My sheep listen to my voice; I know them, and they follow me. I give them eternal life, and they shall never perish; no one will snatch them out of my hand.
1 Corinthians 13 :4-8
Love is patient, love is kind. It does not envy, it does not boast, it is not proud. It does not dishonor others, it is not self-seeking, it is not easily angered, it keeps no record of wrongs. Love does not delight in evil but rejoices with the truth. It always protects, always trusts, always hopes, and always perseveres. Love never fails. But where there are prophecies, they will cease; where there are tongues, they will be stilled; where there is knowledge, it will pass away.
Ephesians 5:25
Husbands, love your wives, just as Christ loved the church and gave himself up for her.
1 John 4:18
There is no fear in love. But perfect love drives out fear, because fear has to do with punishment. The one who fears is not made perfect in love.
Matthew 10:26
Therefore do not fear them. For there is nothing covered that will not be revealed, and hidden that will not be known.
Joshua 1:9
Have I not commanded you? Be strong and courageous. Do not be afraid; do not be discouraged, for the LORD your God will be with you wherever you go.
Psalm 41:3
The LORD sustains them on their sickbed and restores them from their bed of illness.
Philippians 4:6
Don't worry about anything; instead, pray about everything. Tell God what you need, and thank him for all he has done.
Presenting the best Bible quotes DVD on the internet… This DVD has 30 Glorious and amazing Bible quotes with some of the most stunning sunrises In South Florida. The beautiful Bible quotes along with gorgeous flying birds and extraordinary sunrise sceneries make this one hour and one minute Video a must have for all Christians.