Tour Bristol TN and VA! | Travel Ideas
Tour Bristol TN and VA! | Travel Ideas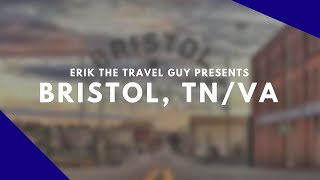 Bristol, Tennessee (and Virginia) is FULL of surprises from the birthplace of country music to a very hip, walkable downtown! And let's not forget the Bristol Motor Speedway! So much to do, you'll need an extended weekend to get it all in!
Thank you SO much for watching and sharing these videos with your friends. It makes me feel so good to see a new friend has hit the notification button and subscribed to my channel! I want YOU to see the world everyday so follow my journey on Insta, Twitter and FB @EriktheTravelGuy
Full episodes of my PBS television series "Beyond Your Backyard" and a other helpful travel information can be found on my website http://www.erikthetravelguy.com.