ADVICE FOR NEWLYWEDS: TALKING ABOUT THE BEDROOM
ADVICE FOR NEWLYWEDS: TALKING ABOUT THE BEDROOM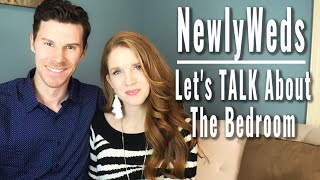 /ADVICE FOR NEWLYWEDS: TALKING ABOUT THE BEDROOM! In this video, we use our expertise as a pastor and a therapist and specifically a Christian Sex Therapist to give you some of the best marriage advice for newly married couples. Even if you have been married for a while, talking about sex with your spouse can be difficult. Christian sexuality is rarely talked about today leaving many couples uneducated, uncomfortable, and simply lacking intimacy. We share ways to have sex talks in your new marriage and get you started in the right direction.
🌟 Download your Freebie: INTIMACY CONVO STARTERS! Get 31 fun, sexy, intimate questions to help you start conversations with your spouse! Click the Link: https://mailchi.mp/b93810dd4034/intimacy-covo-starters 🌟
🌟 Download your Free DAILY MINDSET RENEWAL GUIDE to calm your soul, gain confidence, and pursue your dreams! https://mailchi.mp/7d976e043a96/mindsetguide 🌟
// CHRISTIAN COUNSELING //
Looking for affordable online Christian counseling? Our sponsor Faithful Counseling connects you to a licensed professional at affordable rates. They also have scholarships and financial aid available if needed. Apply now: https://faithfulcounseling.com/andrewandamanda
//RESOURCES & LINKS MENTIONED IN THIS VIDEO:
Getting Your Sex Life Off to a Great Start by Dr. Clifford & Joyce Penner (On Amazon)
INTIMACY IN CHRISTIAN MARRIAGE PART 1: https://youtu.be/sB3rtrQXZlI
SCRIPTURES ABOUT SEX: https://youtu.be/Z1r_6R3rzD4
SEXUAL PROBLEMS IN RELATIONSHIPS: https://youtu.be/o9xuo4ZjuZE
//CHECK OUT THESE OTHER GREAT VIDEOS:
HOW TO TALK TO YOUR SPOUSE: https://youtu.be/SPMGpeHuQ7w
INCREASE SELF ESTEEM GOD'S WAY: https://www.youtube.com/watchv=ehrFR2gp0q4&t=1s
CHRISTIAN SEX TIPS: https://www.youtube.com/watch?v=-rYA4nU8x_o&t=3s
// SAY HI ON SOCIAL:
Instagram: https://www.instagram.com/andrewandamandascott
Facebook: https://www.facebook.com/andrewandamandascott
Sign up for our newsletter: https://www.andrewandamandascott.com
// CHECK OUT ASSEMBLY CHURCH:
https://www.myassemblychurch.com
@myassemblychurch
// D E T A I L S Welcome to our channel, your space to be encouraged and inspired to live a life of influence. Andrew is a licensed Pastor and Amanda is a licensed Marriage and Family Therapist and a Certified Christian Sex Therapist, and we both have a passion to help you see your God given dreams become reality.
// DISCLAIMER:
We do not provide therapeutic services or support via social media, direct messages, or email. Content on our social channels is not a substitute for professional services or treatment. Information provided on this channel is for informational and entertainment purposes only. Individuals who use the content may do so at their discretion and responsibility.
If you are in crisis please contact the National Suicide Prevention Hotline at: https://suicidepreventionlifeline.org/ or 1-800-275-8255, or your local emergency services.
// NOTE: This description contains affiliate links that allow you to support our ministry at no cost to you. While this channel may earn minimal sums when the viewer uses the links, the viewer is in NO WAY obligated to use these links. Also, any resource recommendation is not an endorsement. Thank you for your support!
#godlymarriage #newlyweds #christiancouple