How To Plan An Event Successfully | Tips To Nail Your First Event
How To Plan An Event Successfully | Tips To Nail Your First Event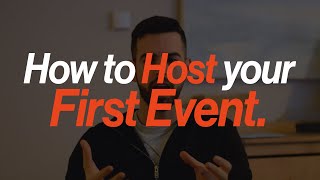 ➜ Key tips to successfully plan an event
➜ How to make sure your first event is a successful event
➜ Subscribe: https://www.youtube.com/channel/UC95G9cQFUwI_LJKzQTzzOAg?sub_confirmation=1
I often get asked how to successfully run an event for the first time.
I hosted my first event when I was 18, and since then, I've hosted loads more. I love them, and even though I was never professionally trained, I've learned quite a few tricks of the trade over the years.
Hosting successful events may seem overwhelming at first, and it'll be nerve-wracking for sure, but with the right approach, you'll do just fine.
In this video, I want to guide you through some of the most critical steps and considerations for your first event, so you can ensure things go smoothly.