Advice For Young Christian Women | Women's Wed. Chat
Advice For Young Christian Women | Women's Wed. Chat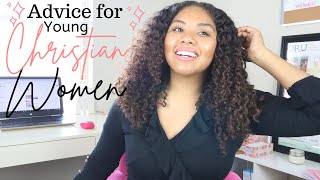 Get Free Resources Here: https://www.hisdaughterscloset.com/freebies
I sat down and thought when I was 18 and 19 what would I need to hear!
So, this video is for the ladies who need a little more push in their walks with God!
I want to encourage you to step up and be the Woman of God He is calling you to be!
Get Free Resources Here:
Shop My Products: https://www.hisdaughterscloset.com/shop
— CONNECT WITH ME—
Facebook: Morgan Tracy J https://www.facebook.com/morgantracyj/
Instagram: @morgantracyj https://www.instagram.com/morgantracyj/
Snapchat: @morgantracyj https://accounts.snapchat.com/accounts/snapcodes
Business Inquiries: info@hisdaughterscloset.com
Booking: https://www.hisdaughterscloset.com/speaking