God Doesn't Want You to Just Go to Church | Inspirational Christian Video
God Doesn't Want You to Just Go to Church | Inspirational Christian Video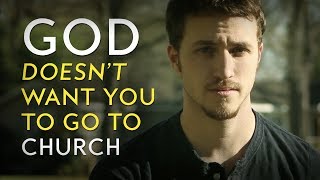 Should Christians Attend Church? YouVersion Bible Reading Plan
https://www.bible.com/reading-plans/14208-should-christians-attend-church
PLEASE READ: I get a lot of comments on this video about how the Bible talks about church being a good thing. Let me briefly explain my heart behind this video. The point of the video was not that God doesn't want us to go to church. I understand that the message in this specific video gets lost sometimes (sorry for that). The point was that God doesn't ONLY want us to go to church. He really wants our hearts. He wants us to trust Him with our whole hearts, and there's more to trusting God that just attending church.
For a long time, I attended church thinking that I was earning God's love by what I did. We cannot earn God's love. Despite our sin, He loved us perfectly by sending Jesus to die on a cross. Now, we can be forgiven and begin a relationship with Him by believing in Jesus as our Lord and Savior.
I believe that attending church is a great way for a believer to grow spiritually and to be encouraged in the Lord. The point was simply that God desires more than that.
————————————————–
God Doesn't Want You to Go to Church on Sunday. He doesn't want you to throw some money in the offering. What He wants is a great deal more valuable. When we gave Him our worst, Jesus gave us His best. He lived the perfect life, died on the cross for our sins, and rose again to new life. He gave us everything.
SUPPORT MY VIDEOS:
https://www.patreon.com/troyblack
MY 30-DAY DEVOTIONAL:
https://goo.gl/7usDyH
READ MY STORY:
https://goo.gl/oQP2z3
MY FACEBOOK:
https://www.facebook.com/AuthorTroyBlack/
MORE VIDEOS & CONTENT:
——————————————————————————
Copyright 2017 by Inspire Christian Books.
Want to use the music track from this video?
https://goo.gl/uxZTuN
TAGS
church, Christian, should I attend church, go to church, Inspirational Christian Videos, Christian Videos for Youth, Christian Videos about Church, Troy Black, Christian Devotional Videos, Christian Videos Inspirational